William Hill Greyhound Derby Final
Unfortunately our Greyhound Derby tips Razdalzl Jayfkay and Nambisco have been eliminated but both gave us a good run during the compensation and shortened considerable form the 10-1 and 33-1 odds they were when advised, so you could have laid off to save your stake or even lock in a profit if that's your preference.
Loooking at the final six (listed below with their prices at time of posting this article) we believe the Trap 3 runner, Westmead Guru, represents the best value. We are great admirers of his sire Tyrur Ted. Trainer Kelly Findlay believes her dog will be suited by the late kenneling time and that he could pop out in front and, with trouble virtually assured at the early turns, Westmead Guru could be well placed to take advantage. Charlie Lister's Taylors Sky is a worthy favourite but Trap 1 can be a problem on Derby night. The theory is that the roar from the crowd as the hare approaches the boxes makes it difficult for dog in Trap 1 to hear the hare approaching and can it to miss the break. A small bet on the Trap 6 runner Cloheena Cash, who in the opinion of How To Back Winners is very much underestimated, is alos advised as is a modest reverse forecast involving Trap 3 and Trap 6.
William Hill Greyhound Derby Final tips
2 points win Trap 3 Westmead Guru
1 point win Trap 6 Cloheena Cash
0.5 point reverse forecast Trap 3 and Trap 6
Total outlay 4 points
The William Hill Greyhound Derby Field
Trap 1 Taylors Sky price 7-4
Trap 2 Bright Redcliffe price 14-1
Trap 3 Westmead Guru price 8-1
Trap 4 Razidazl George price 11-4
Trap 5 Barefoot Bullet price 5-2
Trap 6 Cloheena Cash price 14-1
Please support How To Back Winners by clicking HERE to open a Bet365 account now and start enjoying free bets and special offers
**************************************************************

After the first round of this year's William Hill Greyhound Derby at Wimbledon last weekend, How To Back Winners remains firmly committed to Razdalzl Jayfkay, who recorded the fastest time when winning his heat on Friday. The 10-1 has gone but 6-1 is still available and that's perfectly fair for Dolores Ruth's hound, given his undoubted talents. We were impressed with 2010 Scottish Derby hero Nambisco, who dominated his heat and suggest adding a modest each-way bet (0.5 point each-way) at the 33-1 currently available at time of writing this post on Wednesday May 19th to our Greyhound Derby portfolio.
How To Back Winners is looking forward eagerly to the 2011 William Hill Greyhound Derby which gets underway at Wimbledon on Friday night (May13th) with the first dozen heats of round 1. The second dozen are at the Plough Lane Stadium on Saturday (May14th).
How To Back Winners is a huge fan of Razldazl Jayfkay and, while 10-1 is not a big price at this stage, suggest you have 2 points win on the Dolores Ruth-trained dog as if he impresses in the early rounds as expected those odds could look generous in a couple of weeks time.
We will appraise the race again in the light of the weekend action and will update our recommendations if needed.
First & second recommended bets for the 2011 Greyhound Derby
2 points win Razldazl Jayfkay. (10-1)
0.5 points each-way Nambisco. (33-1)
**********************************************************
How To Back Winners previews the Swindon Arc Final run on Wednesday March 30th at 9.45pm.
There's a decent chance that Buzz Doc will lead into the first turn and make all as he did in his semi-final. Even if he doesn't make the first curve in front, the Trap 2 runner has the finishing power to make a bold bid. The big danger is the improving Mark My Words, who is the only younger dog in the field. Paul Sallis' black has Trap 6 to overcome but is worth mixing in a forecast with Buzz Doc.
9.45pm Swindon March 30th
3 points win Buzz Doc (Trap 2)
1 point reverse forecast Buzz Doc & Mark My Words (Traps 2 and 6)
The greyhound is one of the easiest dogs to look after. They need just two 20 minute walks a day.
Retired greyhounds make great pets.
Click the picture on the left for more information.

**********************************************
How To Back Winnershas just one tip for Tuesday March 8th at Sheffield's evening meeting.
The Irish raider Mountjoy Rock ran a fine trial at the track last week and Elaine Parker's dog will only need to get away on terms from an ideal berth in Trap 1 to take all the beating in the Owlerton Stadium Sprint at 8.14pm.
8.14pm Sheffield Trap 1 MOUNTJOY ROCK
**********************************************************
STOP PRESS - Ladbrokes Golden Jacket hero Bush Paddy 9-2 another winner for How To Back Winners Greyhounds
Here are our tips for the Arc Trials at Swindon on Wednesday nightMarch 2nd.
19.32Swindon – Trap 5Cabra Gooch
19.48Swindon – Trap 2Aintgotaclue
20.04Swindon – Trap 2Lemon Maldini
20.19Swindon – Trap 6Bellas Bud
20.36Swindon – Trap 2Holy Ground
20.52Swindon – Trap 4 Mark My Words
Outright winner Mark My Words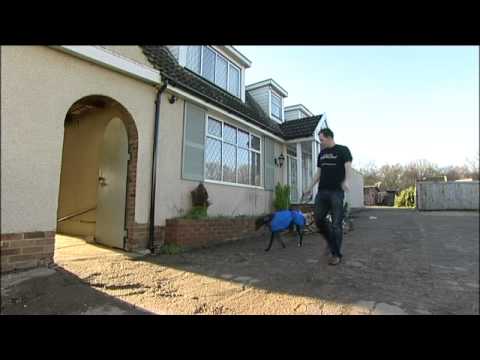 We have already advised Group Skater to follow up last year's win in the Ladbrokes Golden Jacket 12.39pm which reaches its conclusion at Crayford on Saturday February 26th lunchtime.
Group Skater was a little below par in his semi-final last week and, while he could still win if the breaks go his way, he has a tricky draw in trap 5 in the final itself and we suggest anyone with a decent ante-post bet on him has a saver on Bush Paddy who has been ideally drawn in the red box on Saturday.
In the Peter Bussey Memorial 12.08pm on the same card the up and coming bitch Westmead Melanie should also take all the beating from trap 1.
How To Back Winners tips for Crayford Saturday 26th February.
12.08 WESTMEAD MEALNIE
12.39 BUSH PADDY (already advised Group Skater)
……………………………………………………………………………………………………..
How To Back Winners outright selction and tips for the Ladbrokes Golden Jacket Semi-Finals at Crayford on Saturday morning 19th February.
Ladbrokes Golden Jacketsemi-finals tips Crayford 19th Feb.

11.07 MINNIES PENSKE
11.51 GROUP SKATER
12.39 BLONDE BLITZ
Outright tips for Ladbrokes Golden Jacket
2 points win Group Skater
1 point win Blond Blitz
……………………………………………………………………………………………………..
STOP PRESS Clonkeen Theo (SP 8-1) wins final of Springbok. Advised at 20-1 ante-post by How To Back Winners.
****************************************************************************
How Back Winners tips for Springbok semi-final heats Wimbledon on Friday Feb 4th.
Friday Feb 4th
8.15pm Wimbledon – Toems Champ (won)
8.30pm Wimbledon – Glenard Bay(2nd)
8.45pm Wimbledon – Clonkeen Theo (won)
Outright tips for Springbok
1 point win Glenard Bay
0.5 points win Clonkeen Theo
*****************************************
How To Back Winners early ante-post selection for the 2011 Greyhound Derby at Wimbleson is 1 point each-way Razldalzl Jayfkay, 33-1 with Bet365 at time of writing.
*******************************************************
How To Back Winners Big race preview for Wednesday 19th January 2011
Tonight's Coral Coronation Cup Final 9.45pm at Romford (pictured) is all about Trap 6 Honey Trampas who's won his on his last six visits to the Essex venue and who's times are far superior to the opposition. The Diane Henry-trained trail-blazer should bound out and make all. He will be very short in the betting but he can't be opposed. Holy Ground who chased Honey Trampas home in the semi-finals could do the same again and is put forward as a value forecast option.
How To Back Winners suggested bet for 9.45pm Romford Wednesday 19th January.
5 points win Trap 6
1 point Straight Forecast Trap 6 to beat Trap 4
Result Honey Trampas WON 1-2, Holy Ground 2nd 10-1 F'cast £7.65
**********************************************************
There's some excellent action tonight (Tuesday Jan 11th) at Hall Green and it's live on Sky Sports 2.
The feature event at the midlands track is the final of the Betfair Prestige Stakes.
The Prestige is over 645m and demands both speed and stamina. The Mick Dartnall-trained bitch Blue Bee, who's won her last three starts and will be wearing the blue jacket, is a solid favourite.
How To Back Winners yankee for Hall Green Tuesday 11th January 2011
7.40pm Risky Rosaleen Trap 2
8.15pm Romeo In Miami Trap 1
8.50pm Ministry Magpie Trap 1
9.45pm Blue Bee Trap 2
A yankee = 11 bets – 6 doubles, 4 trebles and an accumulator.